Access GemPay on Gemaire.com
You will be able to access GemPay using your linked Gemaire.com account.
Access GemPay from the link located in the footer of Gemaire.com, under "External Resources".

Logged in customers can also access GemPay from their Account Dashboard.
Log in into GemPay using your Gemaire.com account.

Click "Allow" to grant GemPay the required permissions.
How do I add my payment method
Once you are logged in click on your email address on the top right corner, and select "Payment Methods".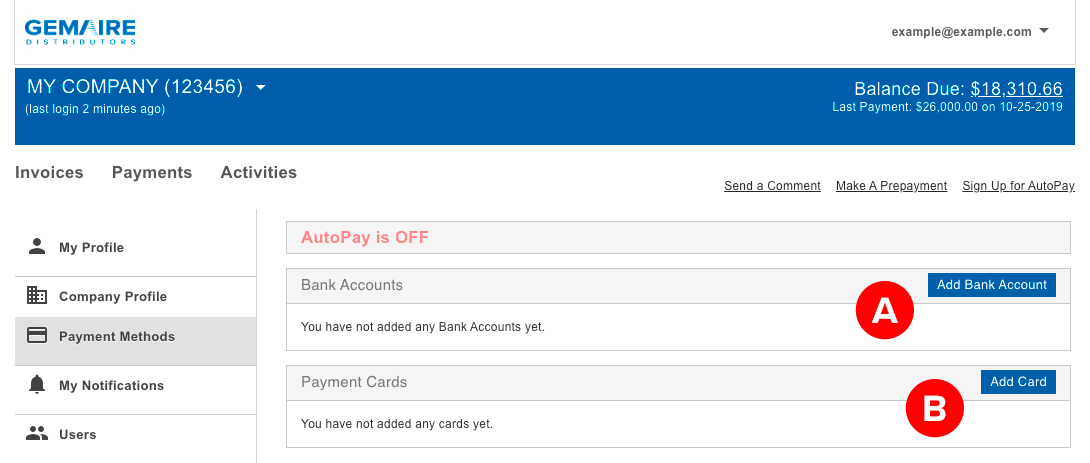 A. Adding a Bank Account
When adding a bank account, you will be required to provide the following fields:
Routing Number
Account Number
Bank Account Type
Account Holder Name
B. Adding a Credit Card
When adding your credit card you will be required to provide the following fields:
Card Number
CVV
Expiry Date
Name on Card
Zip/Postal Code
Note that the name and zip/postal code must match the billing information for the card number entered. If this information does not match the card may be declined upon entry. If this occurs, please review the billing name and zip/postal details and re-enter.
Auto Pay
When adding a payment method you will have the option to enrroll the method in Auto Pay.