If you are an existing Gemaire customer with a credit/open terms or cash terms account you will need to simply link these accounts to a new Gemaire.com online user account. This is simple process and will only take you a few minutes.
If you are new to Gemaire and would like to begin buying from us, please check out our new customer program.
Quick Definition: Linking Your Account
'Linking' your account means you are connecting your Gemaire credit account with your Gemaire.com account. As soon as your account is linked our everyday low pricing on the 18,000+ products available to purchase online will show up. You will also be able to view billing account information online such as open credit terms, addresses, tax and shipment settings and much more.
Important Information Before You Start the Linking Process:
How To Link Your Existing Gemaire Business Account to Gemaire.com:
Step 1:
Click the "Sign In or Register" link on the top right of Gemaire.com and select "Link Your Gemaire Account" from the dropdown menu.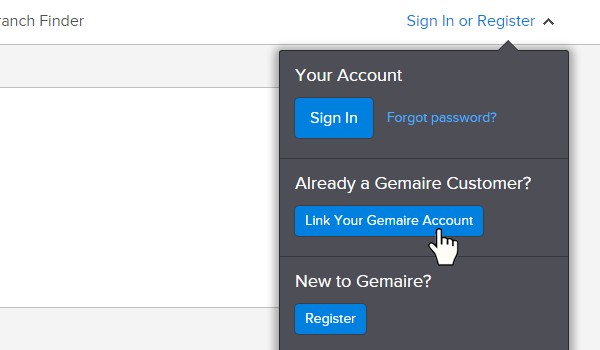 Step 2:
Fill in all the fields on the "Link Your Gemaire Account" form
PRO TIP: The form fields must match exactly to what is on your last statement. The values entered in these fields must have the same punctuation, spacing, capitalization and complete content. If the content is not 100% exact you will see an error message asking you to reenter the form.
1. Account Number
2. Company Name
3. Phone Number
4. Billing Zip Code
5. Last Statement Balance (COD customers please input .00)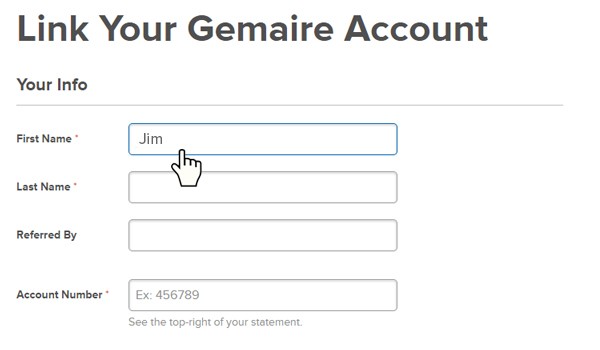 Step 3:
Check the box labeled "I agree to the terms of use and privacy policy" and click "Link Your Account" to submit the form.
PRO TIP: If you entered in all the data correctly you will see a yellow box with a notification stating "Your request is being processed".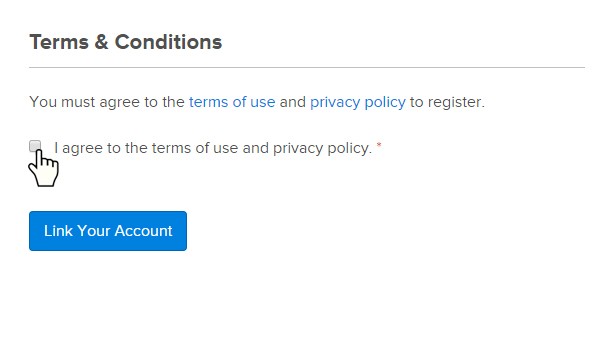 Step 4:
Within one business day you will receive an email confirmation (sent to the email address entered on the form) stating your account has been linked properly and is activated.
PRO TIP: The confirmation email will include your account username and temporary password. Upon receipt of the username and temporary password, you should log into Gemaire.com and change your temporary password to a secure password of your choosing. See the help topic How To Change Your Password for information regarding the password reset process.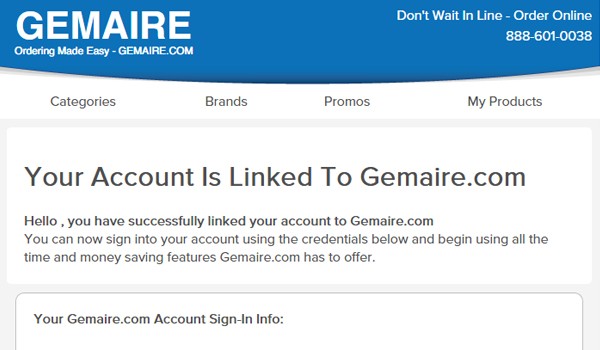 If you need assistance or have any questions about our help topics, please consult with one of our Ecommerce Customer Service staff as they will be happy to help.
Call: 888–601–0038
Email: [email protected]